Call Upon the Maha Shakti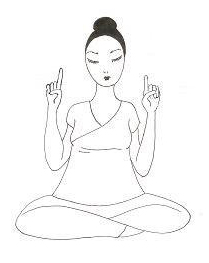 POSTURE: Sit down peacefully with a straight spine..  Make a fist of your hands with both index fingers stretched out and pointing straight up. Elbows are bent and relaxed by  side.
MANTRA: Sing the Kundalini Bhakti Mantra:
AADEE SHAKTEE, AADEE SHAKTEE, AADEE SHAKTEE, NAMO, NAMO
SARAB SHAKTEE, SARAB SHAKTEE, SARAB SHAKTEE, NAMO, NAMO
PRITHUM BHAGVATEE, PRITHUM BHAGVATEE, PRITHUM BHAGVATEE, NAMO, NAMO
KUNDALINI MAAT SHAKTEE, MAAT SHAKTEE, NAMO, NAMO
(Gurudass Kaur's Adi Shakti CD is played.)
TIME: 11-31 minutes.
COMMENTS: "Sing it today as a special gesture to the Maha Shakti. Merge in it. This is enough to take away your misfortune. This will carve out of you a woman. Woman needs her own Shakti, not anybody to it. Today let all the past die and let prosperity live. Let you die and let your power live.
"I would like to ask you a question. Isn't there a time in your life when you have a very miserable situation, and disastrous environments confront you? It comes in everybody's life. Well, this is a Maha Shakti mantra, and when a woman chants it, God clears the way. This is not a religion, it is a reality. Woman is not born to suffer, and woman needs her own power. This is a Maha Shakti mantra. Just utter it once and see what it does.
"I feel you must have some time when you are in difficulty. Rather than calling on help from friends and prayer, call on Maha Shakti and see what happens. When India and Indian woman knew this mantra, it dwelt in the land of milk and honey. When they forgot it, it became a hell. Only the forgetting of this mantra has given birth to MTV. We forgot this mantra and MTV was born. But when woman knew this mantra she was a living goddess. Without Maha Shakti, God cannot manifest anything. This is the mantra." ~Yogi Bhajan, Woman's Camp, New Mexico, July 4 & 5, 2000.
© The Teachings of Yogi Bhajan
KUNDALINI WOMEN    9 Sombrillo Road    Espanola, New Mexico 87532 USA
info@kundaliniwomen.org    www.kundaliniwomen.org